09-10-2005, 01:54 PM
X factor lookalikes
This one prompted by Andy the bin man, who just has to be Patrick Viera's long lost twin brother!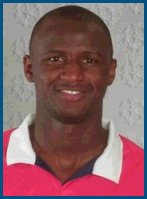 Viera in football shirt, or Andy?
09-10-2005, 02:31 PM
X factor lookalikes
This is the only reason I can think that Simon went with the Conways - he's seeing the Corrs, but they aren't. Got to admit the lead singers have that certain similarity about them.
Possibly Related Threads...
Thread:
Author
Replies:
Views:
Last Post
Cheryl Cole to be new X factor judge
MariaRob
11
6,027
03-11-2011 08:51 AM
Last Post: hongfa
X-factor drinking game ....
Dolores
31
12,991
03-12-2006 04:56 PM
Last Post: Cjem spud
x factor theme tune for your phone
cavalier1962
4
2,159
05-11-2006 08:07 PM
Last Post: Northern angel
x-factor
jackie
10
3,038
30-10-2006 03:50 AM
Last Post: Coastie
General X-Factor stuff!
Coastie
33
5,626
28-09-2006 03:21 AM
Last Post: Coastie
X-Factor Bingo Room
WayneH
1
2,308
21-09-2006 04:18 PM
Last Post: WayneH
X factor just opened a cool interactive site
cubase
5
2,905
21-09-2006 01:31 PM
Last Post: jarael
x factor
jackie
6
2,029
11-09-2006 07:24 PM
Last Post: jackie
x FACTOR BLOGGS.
Northern angel
3
1,657
31-08-2006 10:50 PM
Last Post: Northern angel
X factor news update.
Northern angel
19
4,331
31-08-2006 09:49 PM
Last Post: Northern angel
User(s) browsing this thread: 1 Guest(s)